Maria Sharapova
Country
Russia
Biographical Information
Born
19 April, 1987
Birthplace
Ngayan, Russia SFSR, Soviet Union
Residence
Bradenton, Florida, USA
Physical Information
Gender
Female
Height
1.88 m (6 ft 2 in)
Tennis Information
Plays
Right-handed
Career prize money
$16,428,154
Singles
Career Record
408-100
Career titles
24 WTA, 4 ITF
Highest ranking
No. 1 (August 22, 2005)
Current ranking
No. 4 (August 22, 2011)
Grand Slam results
Australian Open
W (2008)
French Open
W 2014
Wimbledon
W (2004)
US Open
W (2006)
WTA Tour Finals
W (2004)
Doubles
Career Record
23-17
Career titles
3
Highest ranking
No. 41 (14 June, 2004)
Grand Slam Doubles results
Australian Open
2R (2003, 2004)
US Open
2R (2003)
Last updated on
22 August, 2011.
Maria Yuryevna Sharapova is a Russian professional tennis player born in Nyagan, Russian SFSR in April 19, 1987. Sharapova has won 23 WTA singles titles including three Grand Slam singles titles at the 2004 Wimbledon, 2006 US Open, and 2008 Australian Open. If she gets a title at the French Open, then she has achieved a Grand Slam, but that has not happened yet.
Early Life
Edit
Sharapova was born in Nyagan to parents Yury and Yelena. Her parents were ethnic Belarusians and moved from Gomel, Belarus after the Chernobyl nuclear accident in 1986. When Sharapova was two, her family moved to Sochi, Russia. Russia's first ever ranked World No. 1 tennis player Yevgeny Kafelnikov's father Aleksandr gave Sharapova her first Tennis racket when she was 4. Her father and her would then go and practice at the park regularly. Russian coach Yuri Yutkin gave Sharapova her first tennis lessons and was impressed with how she played and how she had incredible hand-eye coordination.
At the age of seven, Sharapova attended a tennis clinic in Moscow run by Martina Navrátilová, who recommended professional training at the Nick Bollettieri Tennis Academy in Florida, which had previously trained players such as Andre Agassi, Monica Seles and Anna Kournikova. With money tight, Yuri was forced to borrow the sum that would allow him and his daughter, neither of whom could speak English, to travel to America, which they finally did in 1994. Arriving in Florida with savings of US$700, Sharapova's father took various low-paying jobs to help fund her lessons until she was old enough to be enrolled to the academy. In 1995, she was signed by IMG, who agreed to pay the annual tuition fee of $35,000 for Sharapova to stay at the academy, allowing her to finally enroll at the age of 9.
She began playing tennis as a young child, and at age nine was taken by her father to Florida, USA, where she enrolled at a tennis academy. She has yet to win the French Open which is the only major that she needs to earn a Grand Slam.
2003-2004
Edit
She turned professional at 14, claimed her first WTA victory at the 2003 AIG Japan Open, and also that year reached the fourth round at Wimbledon on her first attempt. Success came in 2004 when she won the singles title there, becoming Russia's first woman Wimbledon champion. At the end of 2004 she added the WTA Championship title to her achievements.
2005-2006
Edit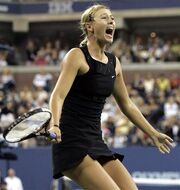 Sharapova started 2006 by losing in the semifinals of the Australian Open in three sets to Henin, also losing a rematch several weeks later at the Dubai Tennis Championships, having defeated former World No. 1 Martina Hingis and World No. 3 Lindsay Davenport in earlier rounds of the tournament.
Sharapova was among the title favorites at Wimbledon, where the eventual champion Mauresmo ended up beating her in the semifinals.
Tier I Acura Classic, Sharapova claimed her second title by beating Kim Clijsters for the first time.
She was ranked No. 4 at the start of 2006 and that year won the US Open, where she was the third seed and beated second seed Justine Henin in the semi-final.
Sharapova would've been the world's No. 1 ranked player if she had won the WTA Tour Championship, because before that, she was in a 19-match winning streak but it was broken by Henin at the Tour Finals Championship. Although she lost and she didn't get ranked No. 1, she still moved up to No. 2, which was her closest to the top.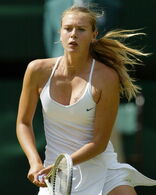 2007-2008
Edit
Two years later in 2008, Sharapova won the Australian Open.
2009-2010
Edit
Sharapova entered the 2011 Rogers Cup in Toronto, Canada. As the 5th seed, she received a bye into the second round, where she defeated Bojana Jovanovski 6–1, 7–5. In the third round, she lost to Galina Voskoboeva 3–6, 5–7, marking her 100th career loss.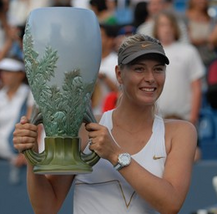 Sharapova then headed over to Cincinnati, Ohio for the 2011
Western & Southern Open
. As the fourth seed, she received a bye into the second round, where she faces against
Anastasia Rodionova
. Sharapova won that round 6-1 6-3. Going into the third round, Sharapova beated 14th seed and fellow Russian
Svetlana Kuznetsova
. In the quarterfinals, Sharapova is up against 10th seed and Australian
Samantha Stosur
, who made it to the finals just the week before that in the 2011
Rogers Cup
. With a score of 6-3 6-2, Sharapova beats the Aussie to head to the semi-finals against 2nd seed
Vera Zvonareva
. In a tough 3-set match, Zvonareva wins the first set with a score of 2-6. But, Sharapova battles through to win the next two sets 6-3 6-3. Knocking out the fellow Russian, Sharapova meets with fellow former World No. 1
Jelena Jankovic
. After losing the first set, Sharapova received a quick pep talk from her coach and went on to power through the second set 7-6(3), winning it in a tiebreak and forcing a third set. In the third and final set, Sharapova upsets Jankovic to win her first Western & Southern Open Championship. The entire match lasted two hours and 49 minutes, making it the longest WTA tour final this year so far. The win sent Sharapova from No. 7 to No. 4 in the current rankings, her highest since her comeback from her shoulder injury.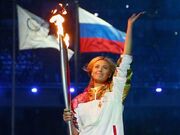 In the 2014 Sochi Winter Olympics, Maria Sharapova had the honor of bringing in the Olympic flame to Fischt Stadium. This means that Russia, and the rest of the world, recognize her as a great athlete. 
Community content is available under
CC-BY-SA
unless otherwise noted.